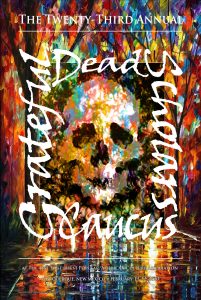 Poster by Griffin Arts
The twenty-third annual Grateful Dead Scholars Caucus at the forty-first Southwest Popular/American Culture Association conference, Hyatt Regency, Albuquerque, NM, February 19–22, 2020.
Area Chair: Nicholas G. Meriwether.
Papers
Rebecca Adams. "An Evolving Research Agenda: Foundations and Persistence of the Deadhead Community."
Barry Barnes. "The Business of the Dead: Perspectives from Inside Grateful Dead Productions."
Beth Carroll. "Women of the Grateful Dead Ticket Office."
Christopher K. Coffman. "German Romantic Philosophy, Georgic Poetry, and 'Weather Report Suite, Part 2 (Let It Grow)'."
Robert Cooperman. "Beggar's Tomb."
Janet Croft and David Emerson. "'Some Rise, Some Fall, Some Climb': Three Ways of Looking at Robert Hunter's The Giant's Harp."
Christian Crumlish. "'Tsk, Tsk, Your Dead Head is Showing': Conversations with Robert Hunter after Jerry Died."
Julie DeLong. "'The Last Rose of Summer': Memento Mori's Legacy from the Sixteenth Century to the Grateful Dead."
Mike Dolgushkin. "The Grateful Dead's Hiatus From Touring."
Natalie Dollar. "A Cultural Rhetorical Model of Identity: The Case of Jam Band Communication Communities."
Bud Fairlamb. "Psychedelic Mandala: Rick Griffins Aoxomoxoa."
Jesse Jarnow. "News From the Silk Trombone: MIKEL and the Birth of Deadhead Tour Culture, 1982–1985."
Heather Laurel. "Cataloging Instances of Chromaticism in the Songs of the Grateful Dead."
Matthew Lynch. "Dying Before You are Dead, Stealing Your Face Right Off Your Head: Resonances of Sufi Mysticality in the Lyrics of Robert Hunter."
Nicholas Meriwether. "The Esoterica of the Haight and the Books of the Dead."
Sarah Moser. "Prayer is Dead."
Shaugn O'Donnell. "Workingman's Dead?"
Nathaniel Racine. "The Symbolic Landscape and Usable Past in the Lyrics of Robert Hunter."
Timothy Ray. "'Without Love in a Dream It'll Never Come True': Aphorisms, Kairos, and the Rhetoric of Relative Truth in the Lyrics of Robert Hunter."
Peter Richardson. "Hunter S. Thompson: The San Francisco Years."
Deepak Sarma. "'A Long Strange Trip': The Use of a Twelfth-Century Indian Sculpture in the Cover Art for the Grateful Dead's Debut Album."
Ryan Slesinger. "'Wake Up to Find Out': Robert Hunter, Jack Kerouac, and Spiritual Nature Writing."
Andrew Smith. "Psychedelic Sobriety: A Wharf Rat's Journey Back to the Dead Zone."
Stan Spector. "Let the Words Be Ours: Grateful Dead Poetry and Merleau-Ponty."
Rhoney Stanley. "Women's Oral History Protects the Legacy of the Grateful Dead and the Spirit of the Counterculture."
Rick Wallach. "Disturbing the Dead: Pre-Raphaelite Allusions in 'It Must Have Been the Roses'."
Jay Williams. "Robert Hunter's Lyric and the Grateful Dead Aesthetic."
Sean Zwagerman. "What was Jerry doing? Meaning, Intention, and That 1995 'Wharf Rat'."
Roundtable
"The Poetry of Robert Hunter, A Reading and Appreciation." Chair: Nicholas Meriwether. Panelists: Christopher Coffman, Robert Cooperman, Christian Crumlish, Julie DeLong, Jon Ney.
Special Session
"No One May Follow: Robert Hunter Beyond the Grateful Dead. A Guided Listening Session." Chair: Jesse Jarnow