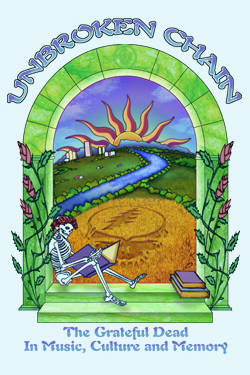 Unbroken Chain: The Grateful Dead in Music, Culture, and Memory. University of Massachusetts-Amherst, November 16–18, 2007.
Director: Michael Grabscheid. Program Co-Director: Nicholas G. Meriwether.
Sponsored by the University of Massachusetts–Amherst, this symposium brought together members of the Grateful Dead's staff and family with scholars, students, and fans for the first academic conference on the Grateful Dead phenomenon.
Selected Papers and Presentations
Rebecca Adams, "Strangers Stopping Strangers: The Deadhead Community."
Barry Barnes, "The Grateful Dead: An Improvisational Business Model."
Bob Bralove, "Light the Song with Sense and Color."
Gary Burnett, "Deader Than Thou, or Living Gratefully: Deadhead Interactions Online."
James Revell Carr, "'Did You Hear What I Just Heard?' Self-Reflection, Audience Reception, and Magical Realism in Grateful Dead Lyrics."
Christian Crumlish, "Deadheads in Cyberspace: A Historical Survey."
Natalie Dollar, "Exploring the Deadhead Speech Community: A Cultural Communication Approach."
David Dodd, "Through a Glass Darkly: 'Barbed Wire Whipping Party' As A Negative Lens of Illumination."
Robert Freeman, "Improvisation as Social Interaction."
Steve Gimbel, "The Other One and the Other: Moral Lessons from a Reluctant Teacher."
Herb Greene, "Brief Encounters with the Dead."
Stanley Krippner, "The Grateful Dead's Entangled Minds: New Paradigms, Shamanism, and Telepathic Dreams."
Leora Lawton, "Why are There so Many Jewish Deadheads—and Why Should We Care?"
Chaone Mallory, "Of All Possible Worlds: The Dead and the Construction of Collective Eco-Consciousness."
David Malvinni, "Blues, Jazz, and the Psychedelic Worldview: How the Grateful Dead Transformed Improvisatory Music."
Nicholas G. Meriwether, "The Last Prank, the LA Acid Tests, and the Birth of the Grateful Dead."
Shaugn O'Donnell, "American Chaos: Charles Ives and the Grateful Dead."
Glenn Rifkin, "The Brand Known as the Grateful Dead."
Sandy Sohcot, "The Rex Foundation and the Philanthropy of the Grateful Dead."
Steve Silberman, "Homegrown Dharma."
Steve Silberman, "The Dead, the Media, and the Shock of the New."
Eric Silverman, "From New Guinea to New Minglewood: Notes Towards An Aesthetic Theory of the Grateful Dead."
Stanley Spector, "'Statements Just Seem Vain At Last': The Grateful Dead and Nietzsche's Critique of Philosophy."
James A. Tuedio, "'Words Half Spoken and Thoughts Unclear:' Synchronicity, Ambiguity, and Exposure to Excess in the Transvaluative Dynamic of Grateful Dead Music."
Steve Waksman, "The Aesthetics of Electricity."
Brent Wood, "The Role of Words in the Grateful Dead Ritual Concert Experience."
Roundtables
"Conceived of Great Spirit: The Grateful Dead Meet Rolling Thunder." Stanley Krippner, moderator. Sidian Morning Star, panelist.
"Searchin' for the Sound: Engineering the Dead." Dan Healy, moderator. Bob Bralove, panelist.
"'Some Say Men But I Say No:' Gender and the Counterculture." Laura Lovett, moderator. Rachel Gallop, Carolyn Adams Garcia, panelists.
"The Storyteller Speaks: Remembrances From Thirty Years on Tour." Dennis McNally, moderator. Carolyn Adams Garcia, Bill Walton, panelists.